Save €20 for every €100 spent

Offer valid until 03/04/2023 midnight. Instant discount of €20 per €100 spent (€100 maximum discount per basket) on the new Spring-Summer collection, indicated by the mention "20x100", excluding discounted prodcuts, technical products and accessories (Swim, Surfing, Snowboarding, Skiing, Skateboarding). Offer cannot be combined with any other commercial operation in progress. Offer valid at participating stores.

RVCA SPORT GIVEAWAY - Enter to win a 500€ voucher shopping spreer - Enter now

RVCA INSIDER - FREE SHIPPING & RETURNS FOR MEMBERS - Join now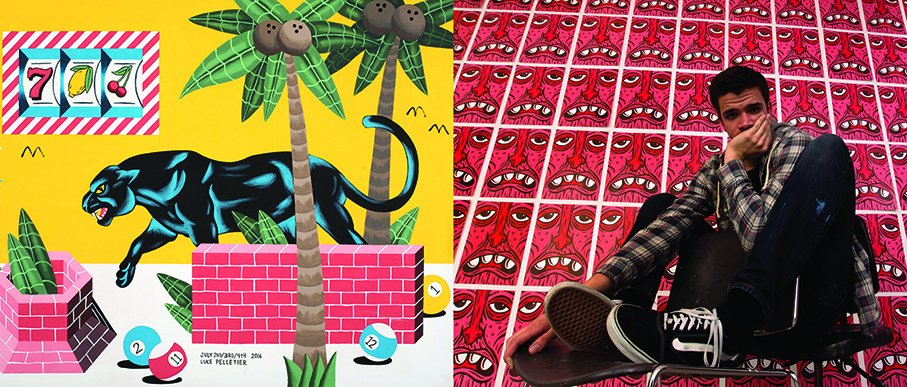 LUKE PELLETIER GREW UP IN WESTERN NORTH CAROLINA. HE GRADUATED WITH A BFA IN FINE ART FROM SAIC IN 2015. LIVING IN A TOURIST TOWN FOR MUCH OF HIS LIFE, HE HAS BEEN HEAVILY INFLUENCED BY SEASONAL ECONOMIES, AS WELL AS THE MULTI-LEVEL RELATIONSHIPS, DEPENDENCE AND RESENTMENT, BETWEEN TOURISTS AND LOCALS. MUCH OF LUKE'S ART BLURS THE LINES BETWEEN CELEBRATING AND CONDEMNING A CULTURE THAT AGREES TO BE TAKEN ADVANTAGE OF WHILE IT TAKES ADVANTAGE OF OTHERS. HIS ART IS FILLED WITH PERSONAL ANECDOTES, DARK HUMOR, DUALITIES, CONTRADICTIONS, REPETITION, AND SCENES OF PARADISE THAT ARE SIMULTANEOUSLY PRISTINE AND DECAYING.
LUKE PELLETIER | RVCA SANTA MONICA
ANP ARTIST LUKE PELLETIER GIVES OUR FLAGSHIP STORE IN SANTA MONICA A NICE UPGRADE. VIDEO BY BRANDON JENSEN. SHOP THE COLLECTION HERE.